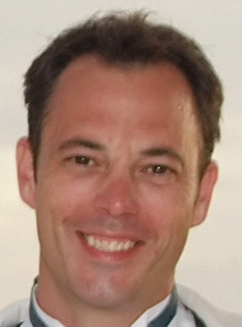 Tony Woodruff
Founder and Inventor of the waterBOB®
I have been somewhat of an innovator my whole life. Conceptualizing solutions to problems and just finding a better way to do certain things has always come naturally to me.
I have also been a bit of a news junky. Every year during hurricane season, I would watch the news and see people scrambling to get prepared for an imminent hurricane. City officials would inform area residents to board windows, stock up on water, food and other supplies for the pending storm. They recommended that residents fill their bathtubs with water because city utilities could be shut down for weeks and running water may be contaminated from flooding.
News footage would show people lined up outside of stores, waiting to buy survival necessities. Unfortunately, the shelves emptied rapidly and the food and water was soon gone. People would fill their bathtubs with water, however, these tubs could be dirty, but even if they were clean, dust and debris could easily get into the water, contaminating their supply.
It occurred to me that something could and should be done to contain and safeguard that water. I knew I had to devote myself to providing the solution and am so glad I did. After hours on end, sleepless nights, lots of research, moral support of family and so many loyal friends, this dream became a reality. "waterBOB" a food-grade bathtub bladder would be the solution and something that every home should have.
High Quality
Only the highest quality, 100% BPA Free, virgin raw materials are used in the production of the waterBOB®.
Customer Satisfaction
We take great pride in our product and customer service.  We want nothing other than to do the best we can and nothing less than happy and satisfied customers.
Your Privacy
We do not share, re-distribute or sell any personal information.
"This is best customer service I've received in years. Prompt, friendly, and professional. I spoke with Tony and he was very informative. I'm looking forward to receiving my WaterBOB and the security it offers in these crazy times."
"A must have Emergency water source. I keep two of these at all times …. I did fill one during a storm and was shocked at the amount of water must be upwards of 100 gallons.. it worked as stated the little squeeze pump worked great… They are cheap enough that if I suspect an emergency I fill one up ahead of time."
"I just wanted to say thanks.  As a Florida resident, I was so happy to know I had a big supply of fresh water for my family.  While lots of people scrambled for bottled water at the last minute, I was able to tend to other things."
© Copyright 2020, Hunker Up, LLC. All rights reserved.
Patent No. 8,627,980 & 10,293,982. Other Patents Pending